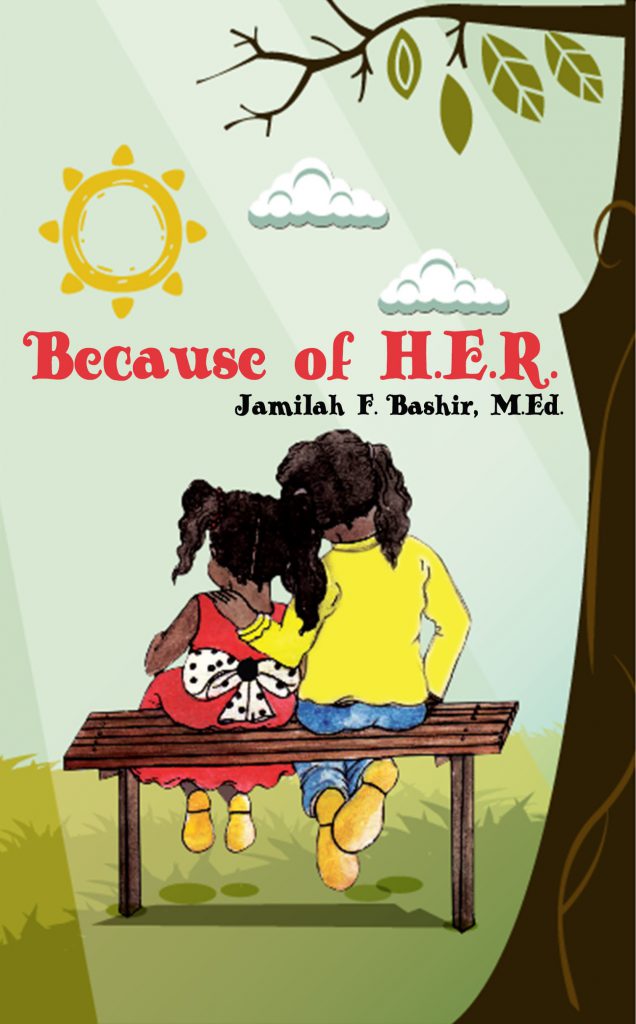 Because of H.E.R. by Jamilah F. Bashir
Because of H.E.R. is such a heartfelt story based on the true story of Jamilah and her sister Aasiyah.
This book shows a beautiful and natural bond between sisters and how Jamilah goes to any extent to protect her sister from bullying and makes her independent. Follow Jameela's journey growing up with her sister in this book and learn how her sister Aasiyah played a vital role in shaping her life and choosing a career as a special education teacher.
Jamilah and her elder sister were happy and excited when her mom brought a new baby sister Aasiyah home. But when she grows up, her parents realize that Aasiyah is not like Jamilah and Taaliba. She needs help in various daily chores like tying her shoes, getting dressed, etc.
From the beginning, Jamilah always tried to help her, but sometimes she felt frustrated, sad, and embarrassed of her. But as they grow up, their relationship gets deeper and stronger, even her psychologist was amazed to see that Aasiyah can do everything, but first, Jameela has to do it, then she follows her.
Because of H.E.R. has written to help others who find themselves facing the same challenges. This book beautifully portrays the mindset of children who have special needs and helps parents and their friends to understand the challenges they go through. This heartwarming story teaches us to accept each other, their differences, celebrate their abilities, and not focus on their disabilities.
Perfect for 6+
Grab your copy from Amazon.