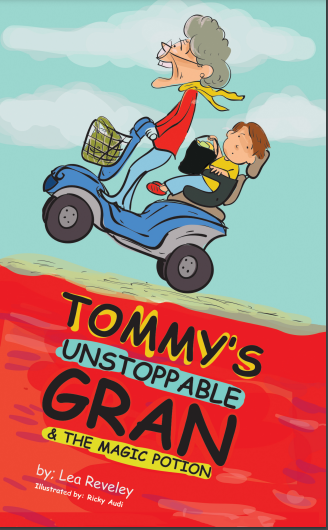 BOOK REVIEW
Tommy's Unstoppable Gran & The Magic Potion By Lea Reveley
What a well-crafted fantasy middle-grade book around the awesomely, full of energy and extra charged-up granny. Who doesn't want a supercharged granny with whom we can double the fun of life?
This book has all the possible elements to keep you entertained till the end, a free-spirited unstoppable granny, a young-adventurous boy, a mysterious book, a magic potion, and a roller-coaster journey to Buckingham Palace.
This story is about a Gran who bought a book from a charity shop just that book cover matched with her cushion covers. But as she got this book home, people started following them, and there are a lot of strange things that happened around them. The book turns out to have magical qualities and helps to create a potion that turns Gran into a superhero. Now they have the responsibility to save this magical potion from evil hands. Rescuing a dog, stopping a bank robbery and an adventure incident at Buckingham palace makes Gran a "Hero" Gran, so get ready for laughs and unending adventures with this heartwarming story of courage and confidence.
I just loved the author narrated this story that created a mystery and suspense throughout and made the reader curious about what happened next. The book cover is also beautiful and enough to grab the attention of readers. I just loved the bonding Tommy shares with his Gran. This book teaches children to keep courage and faith in themselves and highlights the importance of family love.
Perfect for 6+
This book is available on Amazon.