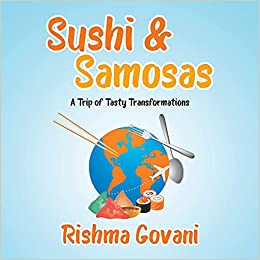 Book Review
Sushi & Samosas: A Trip of Tasty Transformations
Sushi & Samosas is a celebration of food, culture, diversity and encourages children to try new food with an open mind. It seems like dishes from all over the world are served on a single platter, so pick up your fork and spoon and get ready for this delicious journey from Japan to India.
Do you have a picky eater at home? If your answer is Yes, then this rhyming picture book is the perfect read-aloud with your kids.
This story is about two stubborn kids Raine and Asha, who eat only chicken nuggets and fries, they don't want to try any new food, but their foodie parents decided to change their minds. They always said to them,
"There is more to food than nuggets and fries, so be grateful. Eat up. The world is yours to recognize."
Join Raine and Asha and their parents on their yummylicious journey around the globe. For a foodie like me, this book is like a tasty treat, and I'm sure this book will increase your appetite and inspires children to try out new cuisines from different countries.
This beautiful story will encourage the pickiest of eaters to keep an open mind when there's new food to try. Beautiful illustrations of different kinds of food and rhyming text make this book a fun experience for children.
The more you go, the more you know. The more you try, the more you fly.
Perfect for 2+
This book is available on Amazon.