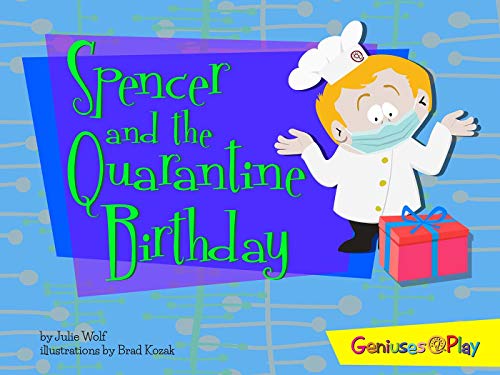 Book Review
Spencer and the Quarantine Birthday by Julie Wolf

Many of us celebrated our birthday during the lockdown, and we all miss our friends, family fun, party, and most importantly gifts like our cute little boy Spencer.
Spencer is so excited about his birthday, he wakes up so cheerfully, and when his mom said, there is no party today as we all are at home due to a virus, so get ready fast, your e-class will start in 10 minutes.
In e-class, Spencer's friends also forget his birthday, so he feels lonely and sad. But then his teacher Miss Honeybunn plans a surprise virtual birthday celebration, and his friends also use their imagination to make his birthday more memorable and cheerful. So read this delightful story to know more about how Spencer had the best Quarantine birthday.
There are many new challenges that children and teachers have to deal with during this pandemic, and we witnessed that children happily adjust to this new normal.
In the story, Spencer and the Quarantine Birthday, children learn that even when life brings strange and unusual circumstances such as a worldwide pandemic, we can adapt by working together to solve life's problems. The beautiful illustrations help children to understand the homeschooling process and the true meaning of friendship. This book has some interesting ideas to celebrate a birthday party so they can have fun and stay safe in this pandemic.
Perfect for 2+
Books are available on Amazon and website: http://www.geniusesatplay.com/