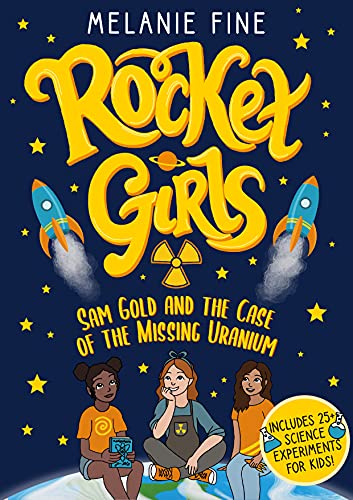 Rocket Girls: Sam Gold and the Case of the Missing Uranium by Melanie Fine
Rocket Girls is an inspirational story for children that encourages them to choose stem as a career and gives them the courage and the confidence to solve their problems by themselves.
This story follows Sam, a cool and confident girl who lives with her family and dog, Einstein. Science is her favorite subject, and she is looking forward to starting the eighth grade with her science teacher Mrs. Cooper. Her method of teaching is so incredible that even reluctant children love science.
But the problem arises when there is no place left to sit in the lab on her first day, and she has to sit with Kimberly Newhouse, the most arrogant girl in the school, and Mrs. Cooper paired them for the lab project.
One day when Mrs. Cooper showed a piece of uranium to kids, then she felt that a piece of uranium was missing, and she scolds Kimberly for that after the class. Now Sam decides to search for the missing uranium that could put his entire school in lockdown if she doesn't find it.
I loved the cover, the concept, the characters, and the whole story that keeps the reader hooked till the end.
This book has typical school drama, competition, bullying, mystery, suspense, and the best part is that it explains the most complex science terms simply and interestingly, so it's an excellent read for middle-grade students.
Perfect for 10+
Grab your copy from Amazon.