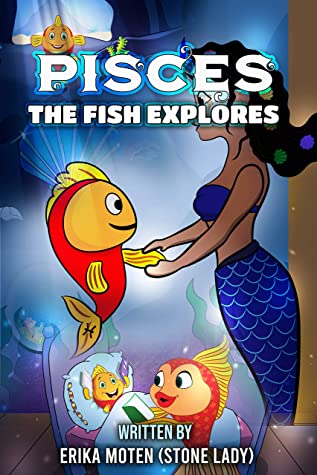 Book Review

Pisces The Fish Explores By Erika Moten ( stone lady)
This book is a beautiful tale of hope, dreams and takes us on a magical journey of the underwater world filled with beautiful crystals, stones, and a lot of adventure.
Pisces is a cute fish named after his zodiac sign, which is the 12th sign Pisces. Every night his mother tells him bedtime stories about Yemaya, a beautiful mermaid and the goddess and mother of all oceans. She protects all sea creatures and she will help make all your dreams come true.
Pisces dreamed that he's on an underwater adventure to explore and find the ocean goddess Yemaya to bring her offerings so that she will make his wish come true. He wants everybody to be happy and safe in this world.

This book is full of beautiful illustrations that make you feel like you're on an underwater tour and children will love this story that gives the message of peace and love. This book also tells about the zodiac signs, crystals, mermaids, manifesting, and the metaphysical world, and that all on a children's level.
Perfect for 3+
This book is available on Amazon.