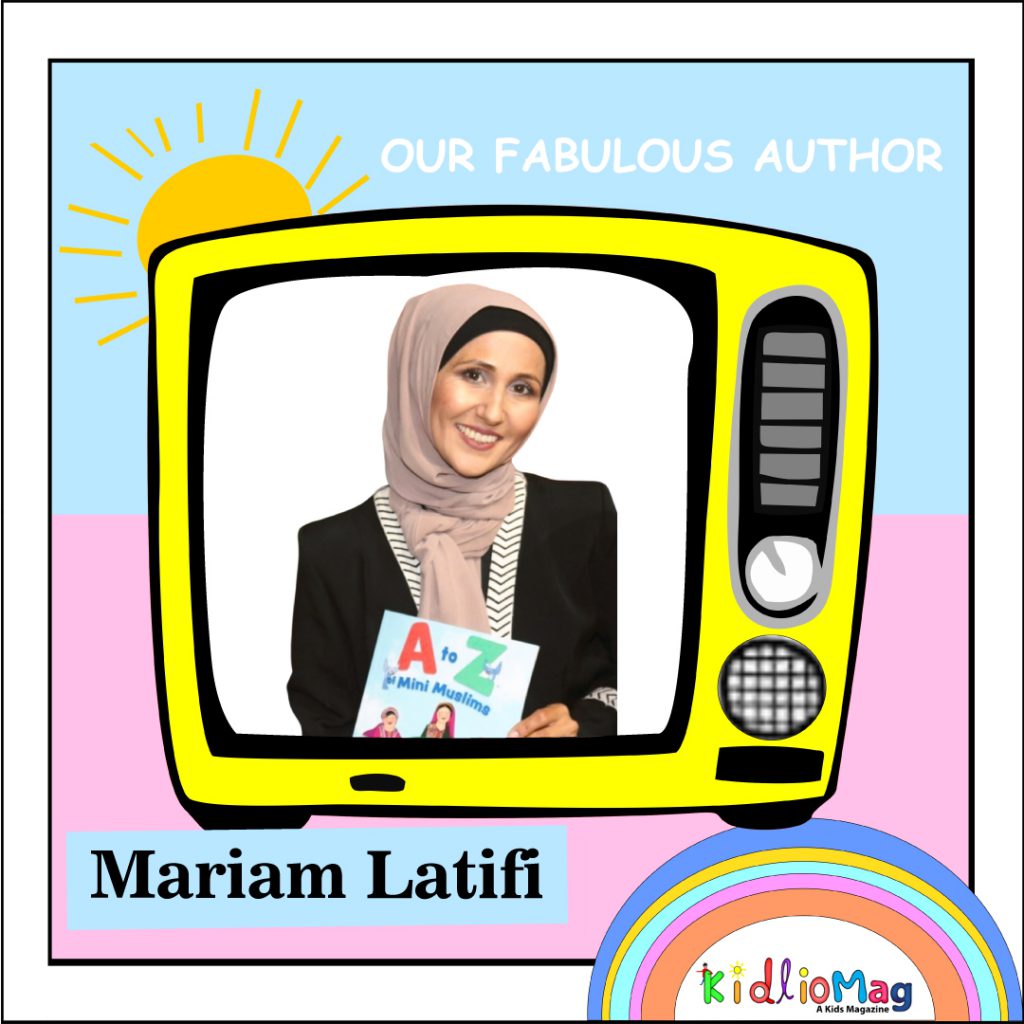 Q: First tell us something about yourself?
Hi there, my name is Mariam Latifi and I am Australian-Afghan author based in Sydney Australia. I was born in Afghanistan and raised in Australia. I am a wife and a mother to three beautiful girls. I had graduated from the University of Sydney (B.Ed (Primary) and have been working as a primary school teacher for over a decade specialising in Teaching English to speakers of other languages. I am also a community activist/volunteer. I am passionate about making a positive difference in my community and empowering young children. I had recently won the NSW Local Women of the Year 2022 Award for my contribution and volunteer work in my community and as well as an Honorary Award for my distinctive role in the
community in supporting and promoting children's cultural identity and understanding. So, you can tell I love giving back to my community and making a difference. I love reading, writing and doing lots of hands-on and fun activities with my kiddies! I love watching my footy (Go the Eels!!!) and love to play cricket! I love baking and making sweet treats!
Q: How and when did your journey start as a writer?
I had always LOVED reading and making up short stories and writing it for my girls. One day my eldest daughter asked questions about her faith, culture and identity and I was looking for some great children's book to inspire and read to her but found that unfortunately there was a lack of it. So, I was determined to write a children's book where she will see diverse representations and feel proud and connected by it and that is how my journey as a writer began with self-publishing my first children's book "A to Z of Mini Muslims."
Q: When did you write your first story? Is it published or not?
I had began writing my first children's book last year when we were in lockdown (in May 2021). At that time, I was also studying for my final semester of my Masters degree in TESOL (through distance at Monash University). While writing my first book, I was also very busy with my 3 young girls (who were under 5 at that time) and with continuing my volunteer work for my community by running a children's playgroup. My book was independently published in November 2021 (so in about 6 months I was able to successfully self-publish my first children's book. My books is available in three formats (eBook, Paperback and Hardcover), all available through Amazon, Barnes & Noble, Target, Dymocks Angus & Robertson, Booktopia, Book Depositary and many others.
Q: Tell us something more about your books?
My children's book "A to Z of Mini Muslims: An alphabet book exploring all about Islam and being a Muslim" is about teaching and empowering young children to be proud of their faith, culture, and identity. It focuses on teaching children all about the Islamic faith with using child-friendly language and captivating illustrations. It is not just an ordinary alphabet book but a book with key messages of promoting religious awareness, tolerance, diversity and inclusivity. It helps dispel myths and stereotypes and is a valuable resource for teachers, students, parents, schools and libraries in promoting and enhancing children's religious world views as aligned to our Australian Curriculum. My "A to Z of Mini Muslims" has become an Award-Winning book receiving the Literary Titan Gold Award and was an Award-Winning Finalist in the Children's Religious category of the 2022 International Book Award and also a finalist for the 2022 Readers' Choice Book Awards in the category of Best Children's Book 3-7.
Q: Why do you choose kids as your reader? is there any specific reason?
I aimed at choosing young children as my target audience/readers mostly because of my own kids. Our children are our future generation and tomorrow's leaders. Instilling the message of diversity and acceptance in our children starts with diverse books. So, creating future leaders starts early and with a diverse representation of children's books that enhances their religious world views, hence promoting their awareness and tolerance of diverse faiths and cultural backgrounds. My unique book not only connects to students' faith but also their identity as young Australians. These young children will grow up being proud of who they are. Therefore, promoting a tolerant society is through promoting a tolerant mind through the "A to Z of Mini Muslims". A tolerant world can only be created through tolerant young minds that have a global understanding and respect of other people's faith and culture.
Q: How did these stories and characters come to your mind?
My children were a source of inspiration for my children's book including the characters. I would not have been able to publish this book without my amazing illustrator Saba Yasmeen. She was able to see my vision and put it into place with every detail. As seen on the front cover, the three little girls are my girls dressed in their Afghan cultural clothes. I wanted my children to be proud of their cultural background and for many others to see diverse representation. Indeed my "A to Z of Mini Muslims" uses diverse representation of characters including embedding Australian themes and perspectives with references to the Australian landmarks, flora and fauna (which I absolutely love!). All this has been beautifully and meticulously illustrated by Saba Yasmeen.
Q: Do you want to leave any message for your readers?
Absolutely! To read you plant a seed, that seed will grow enabling you to succeed. So life is full of opportunities; take your chance and you will be amazed at where it leads. I would love to continue sharing my wonderful work I do and would love your amazing support. Please feel free to like and follow me on my socials (Instagram | Facebook | Twitter) and to help support me by purchasing my book and leaving reviews on my socials (including on amazon & good reads). I would love for this knowledge to spread to every home, schools, libraries and bookstores. We want to see more diverse books/representation on our bookshelves to help broaden our knowledge and understanding. Please feel free to visit www.mariamlatifi.com.au for more details or feel free to email me for any enquires you may have at latifi.mariam@gmail.com Looking forward to hearing where your knowledge takes you!