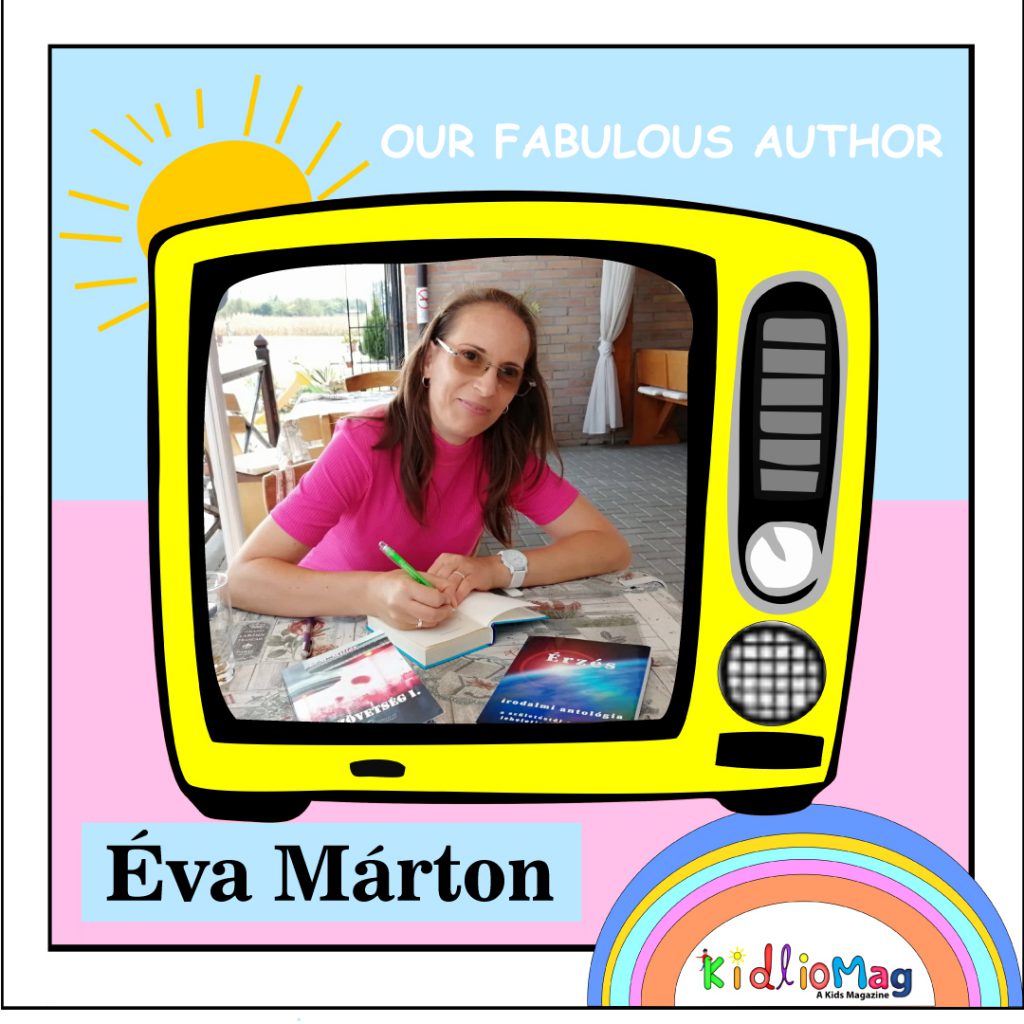 Q) First tell us something about yourself? 
My name is Éva Márton, and my author is name: E.M.Miller. I live in Fadd Hungary and I live in a house near the Danube. I was born in Szekszárd in 1982. I am 40 years old. I work as a social worker in a home for the mentally handicapped.
In my free time I write sci-fi, mystic, crime and children's books. I won a national literary award last year in the sci -fi category.
Q) How and when did your journey start as a writer?
I wrote anecdotes, some of which appeared in a magazine in 2012. I Started writing in the fall of 2013. I sat down and started writing. I had no purpose with writing at the time, Only a year later, when I started applying. I never thought my talebook would be published in English in nine years.
Q) When did you write your first story? Is it published or not?
In 2013. My first story was a vampire story. Why? I was suffering from vampire mania. The title of my story. Verity. Set in Toronto , My cousin, who lives there, helped me write the locations. with this story I am applying for one of the popular literary competitions. unsuccessfully. That's how my writer's pseudonym was born E.M.Miller. Sometime in 2016, it became a blog story. It will remain a blog story, It will not appear in a book.
Q) Tell us something more about your books?
I have written several stories, but so far I have published four books in my native language in hungarian. At the beginning of March this year, the first part of my talebook in English, Which is available for purchase on Amazon. My first book is the first part of a sci-fi story. It's the title. The Alliance I. The vírus. It was a blog story, and I have received several awards for this story. I didn't even think it would be published in the middle of a pandemic. It was released in August 2020. I want to translate it into English once.
Talebook:
There was a twist and I wrote my first story. Andy Wolf is gardening. Made for a storytelling competition. Of course, to no avail. But the expected result in 2018 was brought by another tender. This tale was included in the Advent tale calendar. It became December 1. The following year I was approached to write a tale. This is how I wrote the next two tales. Andy wolf and Santa's hat and Andy wolf's Christmas. And last year. Andy wolf washes his hands , Andy wolf and friendship. It also appeared in a book last year. What I didn't think they would buy. But unfortunately in small quantities. My talebook is illustrated and It also has coloring for children. These five tales are educative.Stories are taken from life. The second part of my tale book was published two weeks ago, in hungarian. Next year I would like to publish the second part in English.
The third is a collection of short stories. It mostly contains science fiction and fantasy stories. It was published in an e-book in Hungarian at the end of last year.
Q) Why do you choose kids as your reader ? is there any specific reason?
I believe it is incredibly important to read to young children from a very early age. Reading helps them develop , their vocabulary increases, reading helps children understand the world around them better. Don't just deal with modern technology, they have books in their hands, and read.
Q) How did these stories and characters come to your mind?
I write more stories, not just tales. I take the characters in my stories from life. The tale is different. I was trying to find characters to be attached to and loved. The character of the wolf became different. As readers and bloggers have noted, I didn't write the wolf like I did in other stories. I didn't want to. He's not evil, he's a nice, sweet, kind-hearted wolf. The wolf sets a good example, let's not let them box us in and dare to be whatever we want.
Q) Do you want to leave any message for your readers?
I hope to keep children and parents among my readers wherever they live on Earth.  I hope to meet you in person one day.