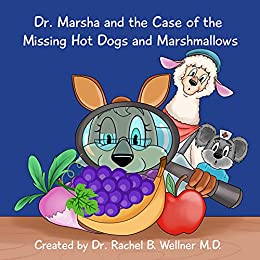 Marsha and the Case of the Missing Hot Dogs and Marshmallows by  Dr. Rachel B. Wellner MD
Dr. Marsha and her crew live in Australia and teach healthy habits to the other animals in their town. Dr. Marsha turns into Doctoroo to help solve mysteries all over the world. One day, she receives a letter from her cousin, mayor of Washington, and asks her for help because all the marshmallows and hotdogs are missing after the 4th of July cookout and this makes children sad.
Then Dr. Marsha flies to Washington with her crew of animals to find out who stole all the marshmallows and hotdogs and why?
So get ready to solve this mystery with Dr. Marsha, the Kangaroo, Terence, the Toad, Louie, the Llama, who takes the reader on the journey to America and teaches children to eat healthy and nutritious food in a fun and interesting manner.
This book is beautiful inside out, and vibrant illustrations make this book an enjoyable read for children. This book explains the benefit of eating greens, fruits, and vegetables in detail and tells children to have junk food like hotdogs and marshmallows only for certain special occasions.
This story is all about fun, mystery, adventure, kindness, friendship and teaches so many valuable lessons along the way.
Perfect for 5+
http://www.rizeandreactmedia.com/
Grab your copy from Amazon.