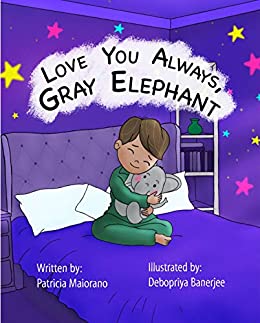 BOOK REVIEW
Love You Always, Gray Elephant by Patricia Maiorano

Love You Always, Gray Elephant is a heartwarming story that every child can relate to because most children are emotionally attached to their toys, and this adorable picture book helps them to outgrow attachment and gain independence.
This story is about a boy named Danny who loves his gray elephant. Whatever he does, he always carries him along, and the grey elephant has a special place in his heart.
He loves him so much that he doesn't even want to go to school. Danny lost his grey elephant on his first day of school, he doesn't want to go to school without him, so it is difficult for him to start his first day at school. It's interesting to read how he copes in school without his beloved elephant and makes some new friends.
This book has simple text and vibrant illustrations that capture the essence of this story very beautifully.
This book is an enjoyable read for little ones that helps them to cope with their feelings and separation anxiety in a friendly manner and helps them to become independent.

Perfect for 3+
This book is available on Amazon.