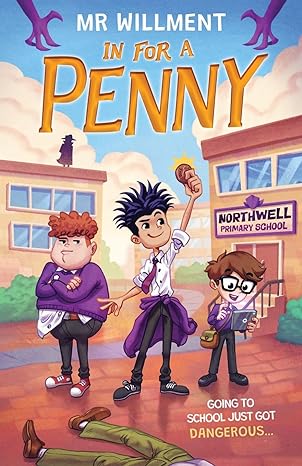 In For a Penny: A primary school murder mystery by Mr Willment
A rare penny, three typical school friends, and a secret… action, crime, mystery, and a fun adventure you don't want to miss!
The story follows Frank, Arnie, and Badger, three ordinary ten-year-olds who find themselves in the middle of a murder mystery when Frank discovers a valuable penny in Arnie's nan's attic.
Badger asks Frank to return the coin to Nan, but he decides to sell it and asks him to keep the secret. But someone is behind him to get the penny back, and soon Frank is in grave danger.
Read to know how Arnie and Badger use their wits and courage to solve the mystery and catch the killer before it's too late.
In for a Penny is a thrilling and humorous book that helps children learn that money can't buy happiness. Happiness doesn't come from something round, bronze, and worth thousands of pounds. Happiness comes from the people around you.
The book is written by Mr Willment, a primary school teacher who has used his experience and knowledge to create a realistic and relatable setting for the story. The characters are well-developed and have distinct personalities that make them easy to root for. The dialogue is witty and funny, and the illustrations by Adrian DKC add to the charm and appeal of the book. I loved how Mr Willment narrated this story that created a mystery and suspense throughout and made the reader curious about what happened next. The book cover is also beautiful and enough to grab the attention of readers who love crime and detective stories.
Perfect book for children aged 8+
Grab your copy from Amazon.