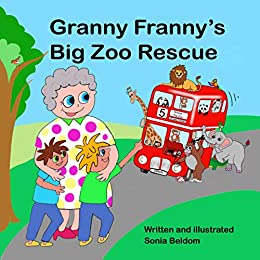 Granny Franny's Big Zoo Rescue written and illustrated By Sonia Beldom
This is the second adventure on Granny Franny's big red bus, and this time Granny Franny drives her big red bus to the zoo with school children. This book takes children on a terrific journey to a zoo where they got to know about various animals.

Jax and Ronni loved their Granny Franny's Zoosday Tuesdays. There were always lots of animals to see and a perfect packed lunch to munch. Children are surprised to see various animals on the way to the zoo and when they reached the zoo, gates were closed and then Granny got to know all the animals escaped from the zoo in the night. With the help of her resourceful grandchildren, Jax & Ronni, Thinkerbell, the talking bus bell, Granny Franny comes to the rescue of a zoo and gets back all the animals.
This book is a great learning journey for children filled with a lot of fun and adventure. This book teaches about empathy, kindness, friendship, and diversity.

This book has sweet and cute illustrations that help kids to understand the story, and rhyming text makes it more enjoyable to read.

Perfect for 1+

This book is available on Amazon.