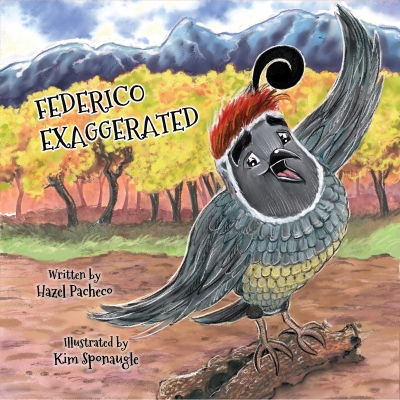 FEDERICO EXAGGERATED: A Story About Tall Tales, Honesty, and . . . The Boldest Berry! by Hazel Pacheco
Federico Exaggerated is a delightful story that teaches children to believe in the power of truth and gives a message of staying creative and imaginative.
Follow Federico on his journey from the fantasy stories of fearlessness to encountering his true story of courage that made him the real hero for all.
Federico is a fantastic storyteller and loves to tell the story of his bravery to his covey. He knows how to catch his friends' attention, so he always comes up with new stories of his daring, but his friends already know that he exaggerated a lot.
One day, when he was in the middle of a story, a bird announced about the ripe hackberries in the north, then all his audience left to search for berries. Federico gets angry and stomps off in the opposite direction and accidentally stumbles onto something that captures his attention. He knows that his friends will love it, but first, he needs to convince them that he's not exaggerating this time.
Read this enchanting tale of bravery and friendship of the fantastic Federico, who learns that if you care about others, you will become a real hero for all.
Federico Exaggerated is Hazel Pacheco's second picture book in the Henry and Friends series. The mind-blowing illustrations take the reader into the Bosque of the Rio Grande, and the simple text gives us a glimpse of Spanish culture.
Perfect for 3+
Grab your copy from Amazon.