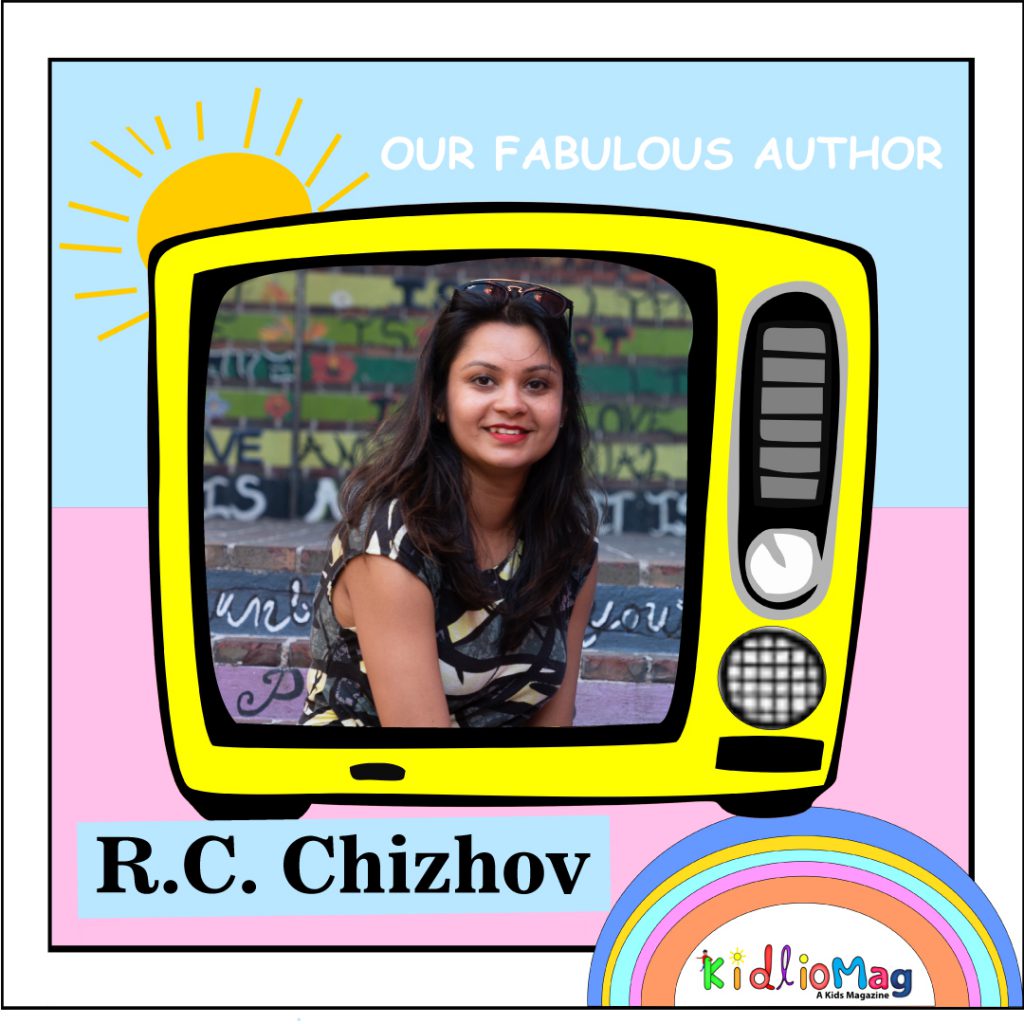 Q:  First tell us something about yourself?
I grew up in India, moved to New York in 2005, and spent fourteen years in the financial services industry, before living my childhood dream of being an author. I write empowering books that promote social and emotional development in children.
I now live in Florida with my ever-supportive husband and my ever-energetic son. When I'm not writing, you can catch me curled up with a book, dancing to Bollywood tunes, solving jigsaw puzzles, hiking, or by the beach.
I have a Masters Degree in Financial Engineering from Columbia University and love all things numbers! I am a member of SCBWI and an active participant of the Making Room for Rhyme critique group.
My website is rcchizhov.com. You can also follow me on Instagram (@rcchizhov), Facebook (@rcchizhov1) and Twitter (@rc_chizhov).

Q: How and when did your journey start as a writer?

I have wanted to be a writer since I was 5 years old. I continued writing as a hobby, took fiction writing classes, participated in National Novel Writing month and wrote for the Lifehacker blog. But I had never published anything or considered this a career until the pandemic hit. In 2021, the stars aligned and I was able to leave my corporate job to pursue my childhood dream! 

Q: When did you write your first story? Is it published or not?

I wrote my first story when I was 6 or 7 years old. It was called the Adventures of Greg Bear and I had hand-written it in one of my school notebooks. 

Q: Tell us something more about your books?

I write fun and relevant stories that children can relate to, and have a universal appeal. Each book has an underlying message with themes of courage, gratitude, embracing your uniqueness, perseverance etc. 
My debut picture book, The Lion in Your Heart, for children ages 3-7was published in October 2021. I am Brave, a unique affirmations-based coloring book and companion to Lion in Your Heart was published in March 2022. 
My newly released picture books, Nope-Nope Emu and Adventure Emu, for children ages 4-8 can be found here: https://www.amazon.com/dp/B0BCZCBK2X. These two books mark the launch of a funny, rhyming picture book series called Emu Town Stories. The next two books in the series are Magician Emu and Yogic Emu. 
All my books are available to purchase through major retailers online (Amazon, Barnes and Noble, Target, Bookshop.org), in some independent bookstores and local libraries. (If you don't see them in your local library, you can request one through their online form!)

Q: Why do you choose kids as your reader ? is there any specific reason?

My first book, The Lion in Your Heart,  was inspired by my son's difficulty in sleeping alone in his room. I often told him to "be brave". One day, he asked me: What does being brave mean? This was a loaded question and I realized that all children deal with fears at some point (I mean, don't we as adults too?). I wrote this book to inspire children to find courage within. I enjoyed the process of writing and publishing this book so much that I couldn't stop. I had to write more!
Kids are the most honest and harshest critics. An adult may read a 1000-page book even if they don't enjoy it, but a 4-year old will not spend 10 seconds on 10 words if it doesn't catch their attention. As an author, it's a sweet challenge to win over these innocent minds. But most importantly, writing for kids is an honor and I'm so grateful for this opportunity to encourage their curiosity and wonder. 

Q: How did these stories and characters come to your mind?

My biggest inspiration is my son (and his friends). Some ideas come from my childhood. Others come from every-day life. 
For example, I came across studies by Angle Duckworth, where she found that perseverance can be more important than IQ for measuring school success. This was an interesting and relevant finding, something that can shape children's future success. I decided to base Nope-Nope Emu to celebrate the power of persistence. The title however came from a different source! My son and I often play. a card game that has a "Nope" card to negate another player's move. My son loves collecting these "Nope" cards and each time, he says "Nope, nope!", he laughs incessantly. I thought of weaving this into my concept of perseverance. How about an emu who says "Nope!"?

Q: Do you want to leave any message for your readers?

Be the awesome, fantabulous and magical beings you are…and have fun reading!