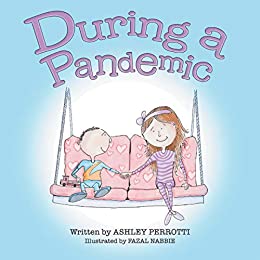 During a Pandemic by Ashley Perrotti 
During a Pandemic is a perfect book for children to introduce the new normal in this world.
It is such a cute way to tell children about this pandemic, so they can understand it's necessary to stay at home and follow the guidelines.
This picture book made it easier for children to understand the current events and situations in this world due to the Covid-virus.
Each page is beautifully illustrated with simple text that helps children understand what is more important in this pandemic, like spending time with family, washing your hands, essential goods delivery, and a lot more.
This story focuses on the importance of being thankful for what you have and the love you received from friends and family.
I highly recommend this book to every parent and teacher out there to read with your children.
Perfect for 2+
This book is available on Amazon.