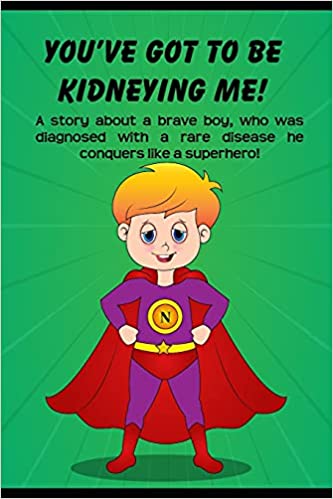 You've got to be Kidneying Me! by Stephanie Severino
We saw so many superheroes like Batman, Superman, and Captain America, but this book is about those real-life superheroes who have rare diseases and fight their own battle to survive.
I really want to admire Stephanie, who wrote this book for her son Nolan, with the intent to help other children and their families who deal with daily struggles and challenges of life.
You've got to be Kidneying Me!: is a heartfelt story about a brave boy, Nolan, who was diagnosed with a rare kidney disease called Nephrotic Syndrome at age 3, but he never gives up and comes out as a superhero.
This story starts around Christmas days when Nolan woke up with puffy eyes and his parents told them that we need to go to the doctor. After that, he had to eat low sodium food and some medicine daily, but he is always hopeful and cheerful as his mother said that kids with rare diseases have special powers.
This heartwarming story has beautiful illustrations, and each page gives a message of hope that encourages children to deal with their daily struggles and tell them that they are real-life superheroes.
Perfect for 3+
Grab your copy from Amazon.