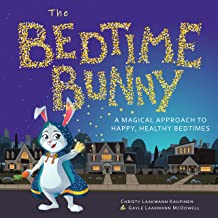 The Bedtime Bunny: A Magical Approach to Happy, Healthy Bedtimes
A Perfect Bedtime story that I read after ages. This book is just an amazing read for children that encourages them to go to bed early.
This story is about all magical creatures that are very disturbed because children are up till night and they will lose their magical powers if they fly in the daylight.
They all are requested to king Rabbit that please do something we cannot go outside for our job until children are in their beds. It is interesting to know how the magic Bunny encourages kids to go to bed early.
I don't have words to describe how beautifully Christy created this whole lot of magic inside this book with magical creatures like Unicorn, cute little dragon, tooth fairy, leprechauns, and our cute little bunny.In this engaging and fun story, children learn why all the magic creatures need them to stay in their beds, even the unicorns and baby dragons.  This book is based on the evidence-based behavior strategy of positive reinforcement to motivate young children to stay in bed. I feel like I'm reading a Christmas story where we have to leave our wishes outside our house and Santa will come to fulfill it. This book is truly magical and helps parents to put them in their beds.I highly recommend this book to every parent out there. It's a perfect gifting option for children.
Book is Available as hardcover, Paperback and E-book
Amazon Link : https://www.amazon.com/Bedtime-Bunny-Magical-Approach-Bedtimes/dp/1734277912/
Website Link thebedtimebunny.com