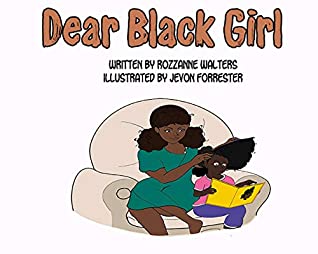 Dear Black Girl by Rozzanne Walters
Dear Black Girl is an inspirational book with wonderful affirmations and interactive activities. This book empowers and encourages young girls to love themselves as you are and be proud of their different skin tones, black features, and other physical differences such as disabilities and skin disorders.
 Let others know that there is no comparison between them because you are unique, and you got these from your ancestors. This book is full of wonderful 'I' statements that teach our young girls to be true to themselves and embrace yourself.
I love the way the author tries to give a beautiful message of self-love, diversity, and inclusion through this book. Illustrations are beautiful and vibrant, which makes this book more beautiful and eye-catching.
I recommend this book to all children so they can understand that beauty is skin deep, and we are all just as beautiful in our own way.

Perfect for 1+
This book is available on Amazon.