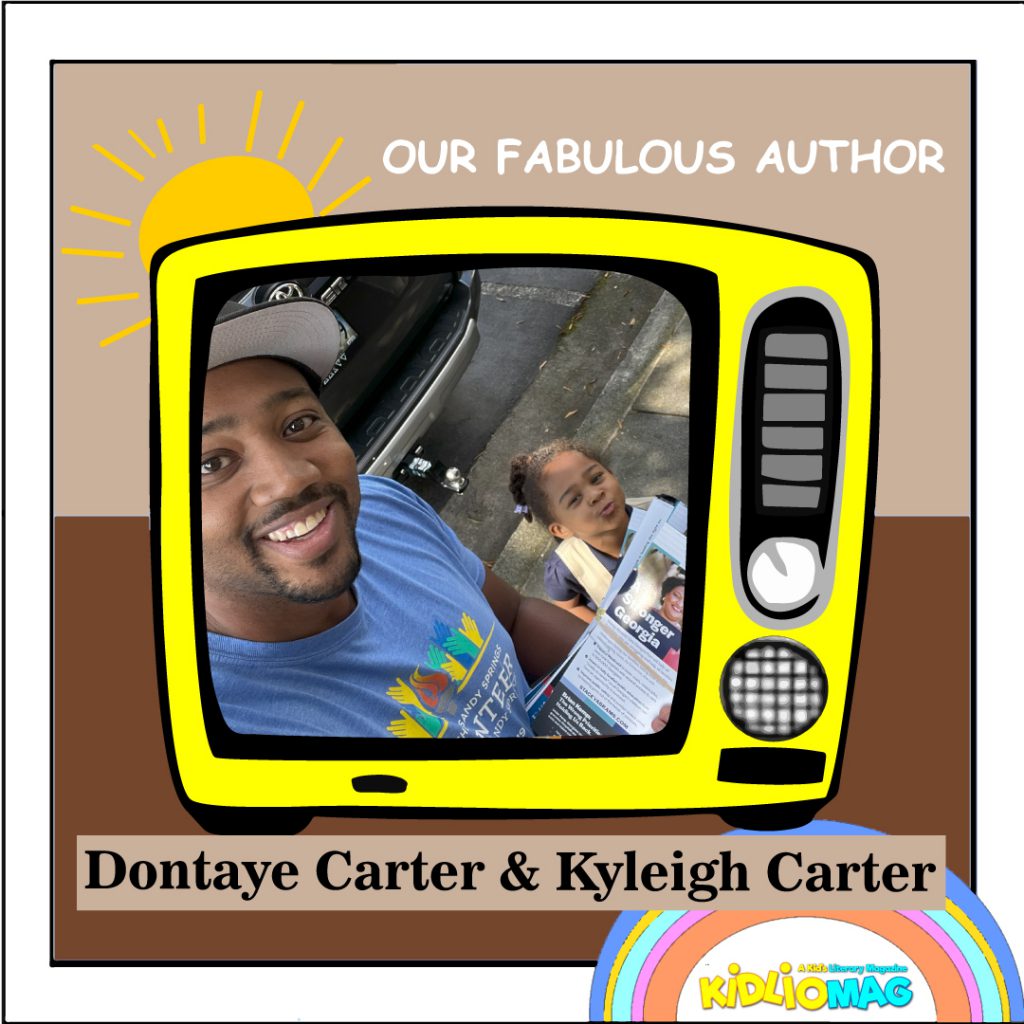 Q: First, tell us something about yourself.
A: My name is Dontaye Carter, and I'm not only a first-time author, but I've always been a storyteller at heart. Beyond the realm of writing, my life is guided by a passionate commitment to creating substantial policy change in my community.
As the Founder and Lead Communication Strategist of Carter Media Group (CMG), I've had the privilege of elevating the voices of survivors' families, notably those affected by the R. Kelly and Ahmaud Arbery cases. This journey has led to international recognition, marked by three prestigious awards from the 26th Annual Communicators Awards.
In addition to my professional pursuits, I am a loving husband and father, deeply devoted to my daughter, Kyleigh. At the age of five years old this book makes Kyleigh one of the youngest published authors. I am a visionary with the goal of making crucial contributions to our society, starting with reshaping the narrative of Black fatherhood through our book, "My Daddy and Me." My life is a testament to the belief that we can all be catalysts for positive change, and that our stories, no matter where they begin, can inspire transformation.
Q: How and when did your journey start as a writer?
A: My journey as a writer found its roots in the transformative environment of 2020, a year that pushed us all to consider the kind of world we were leaving behind. It was a year marked by the formidable challenges of the COVID-19 pandemic, the impassioned protests against racial injustice, and the fervent calls against voter suppression. In the midst of this turbulent landscape, I found myself gazing into the eyes of my two and a half-year-old daughter, Kyleigh, and realized that the world she would inherit had to be different. It was during this time that I made the decision to run for mayor in my city, Sandy Springs.
Though we ultimately fell short in the mayoral race, our campaign achieved significant milestones. I became the first Black man to run for this seat, and it marked the first time our city had a truly competitive mayoral race, bringing forth a diversity of thought and ideas. These experiences left an indelible mark on me, igniting a newfound determination to make a positive impact.
It was against this backdrop of change and resilience that I began a conversation with Kyleigh about us working together to write "My Daddy and Me." The desire to leave a legacy of hope and love for my daughter, as well as for countless other families, served as the driving force behind our decision to embark on this beautiful journey as authors.
Q: When did you write your first story? Is it published or not?
A: Our very first story, "My Daddy and Me," is now published and ready to touch the hearts of readers. It's a testament to the power of determination and love, showing that dreams can become reality.
Q: Tell us something more about your books?
A: "My Daddy and Me" is more than just a children's book; it's a heartfelt journey that resonates with readers of all ages. While it's designed for children, its message of love and strength transcends generations. It's a reminder that every father can be a hero in their child's eyes, regardless of their background.
What makes "My Daddy and Me" truly special is its powerful message that Black fathers are heroes. We are rewriting a story that has been told for far too long about fatherless homes in the Black community. While such homes do exist, they are not the majority. We are heroes, change creators, and pillars of strength. This book goes beyond the stigmas that have been associated with us for far too long, and it shines a light on the love, dedication, and resilience that define Black fatherhood. It's a celebration of the incredible potential within every Black father and the positive impact they can have on their families and communities.
Q: Do you want to leave any message for your readers?
A: Absolutely, to our readers, I want to convey a profound message of hope and inspiration. "My Daddy and Me" is more than just a book; it's a call to action, a reminder that we have the power to shape the future for the next generation of leaders. Kyleigh's generation is brimming with potential leaders, and it's incumbent upon us, the adults, to lay down the framework for them to lead.
Fathers, in particular, play a pivotal role in this journey. Black fathers, in their unwavering love, resilience, and determination, are crucial to this narrative. We are the role models, the guides, and the heroes our children look up to. By rewriting the story and breaking free from the stereotypes, we pave the way for a brighter future.
So, I urge you all to believe in the power of love and family. Use "My Daddy and Me" as a catalyst to spark conversations, to inspire your own heroism, and to empower the next generation. Embrace the hero within you, and let love be the compass that guides your journey. Together, we can build a world where every child, regardless of their background, can look up to their fathers and see a hero and a leader.