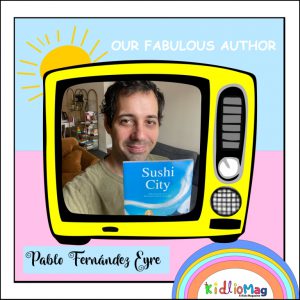 Q:  First tell us something about yourself ?
My name is Pablo and I'm from Spain. I work in the film industry in LA.
Q: How and when your journey started as a writer?
I have always loved writing since I was a kid. I wrote many movie scripts but never a children's book before.
Q: When did you write your first story? Is it published or not?
Sushi City started as a video game but it was never finished. I had to simplify the story to turn into a children's book. I hope to extend it one day and turn it into something bigger.
Q: Tell us something more about your books?
My book mixes fantasy with good messages of wanting to change the world into a better place.
Q: Why do you choose kids as your reader ? is there any specific reason?
Kids are the future of this planet so it's very important that they learn from us so they don't make the same mistakes we did.
Q: How did these stories and characters come to your mind?
I was inspired by Hayao Miyazaki movies. Love their animation and "save the planet" themes.
Q: Do you want to give any message for your readers?
The main message of the book is about friendship/take care of your friends. I see the book for all kind of ages. Little kids like it because of the illustrations, bigger kids like it because of the fantasy, adults like it because of the message behind about female empowerment, ending animal over exploitation, ending hunger in the world, taking care of our planet.