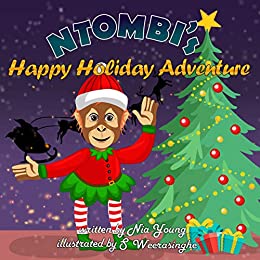 Book Review
Ntombi's Happy Holiday Adventure By Nia Young

Joins Ntombi, the adventurous monkey on her new adventure during Christmas with her cute animal friends.
Ntombi's Happy Holiday Adventure is an adorable story of friendship that teaches children about the joy of giving.
Ntombi and her friends are out for watching Christmas decorations in their area with Miss Nia, where they met Noel, a cat who doesn't have enough clothes to keep herself warm, and she doesn't have a home either. So It's good to read how Ntombi and her friends help Noel.
The holiday season is all about sharing and caring, and this beautiful picture book focuses on the importance of being thankful for what you have and sharing it with your friends and family. Illustrations are colorful so that children can understand the story by the pictures themselves. I am sure children will enjoy this heartwarming story of joy and giving.
Perfect for 2+
This book is available on Amazon and free for Kindle Unlimited users.