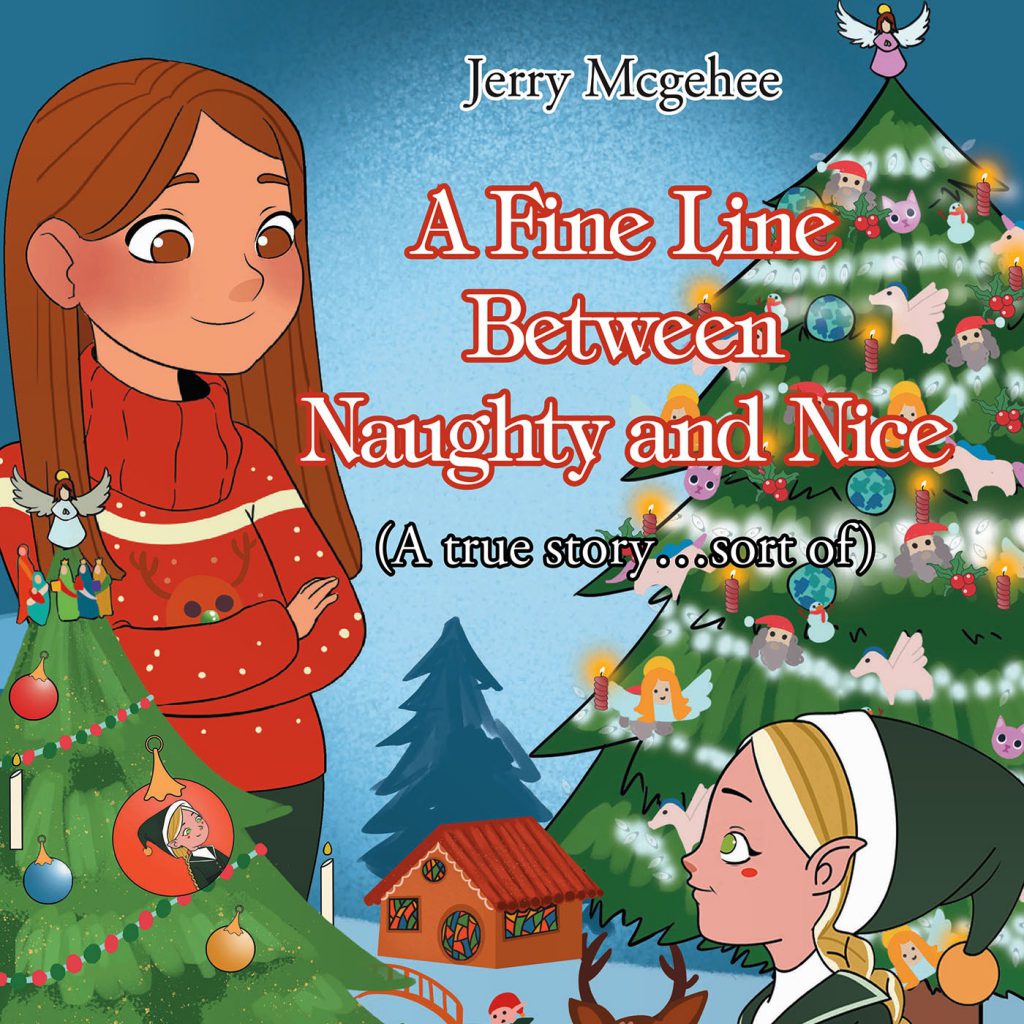 A Fine Line Between Naughty and Nice: (A true story…sort of) by Jerry McGehee
This engrossing chapter book about the warmth and wonder of Christmas helps children discover the magical world of elves and Santa Claus.
How far would you be willing to go to make someone's Christmas magical? Would you risk being put on Santa's Naughty list forever? Would you step into a magic portal, not knowing where it goes or what's on the other side? Are you willing to give up family and friends, including your BFF and a boy you just figured out you really like to follow in your famous grandfather's footsteps?
That's the situation Joni, the elf from Christmas Town is about to face. She has a secret dream. If she is successful, not only will she make one little girl's Christmas the most magical one ever, but she'll also find her lifelong quest for adventure. She's in a race against time.
Elizabeth is excited to celebrate Christmas at her Uncle Jerry's house. She wrote a letter to Santa asking for a friend as a gift.
One day, she sees a mischievous-looking elf on Santa's lap under the tree that says present for Elizabeth, but her uncle says that if you play with Joni, the elf, she will lose her magic.
Join Joni, the elf, on her magical journey to know how she put all the clues together and figure out how to make her dream and Elizabeth's come true. Or will she wind up on the Naughty list forever and be the reason Elizabeth stops believing in Santa? Along the way, she will discover that sometimes you just have to risk it all.
For if it's the right thing to do, then "it is better to have tried and failed than to have never tried at all!" That's her story, and she's sticking to it, LOL.
Joni wants nothing more than to be on the Nice list. She struggles with the whole naughty-and-nice thing. Sometimes it seems like things start as nice but, depending on the outcome, could be perceived as naughty.
This charming story teaches about love, dream, friendship, and dealing with difficulty. It is a fun and adventurous read for children that teaches them to believe in the magic of Christmas.
Perfect for 6+
Grab your copy from Amazon.